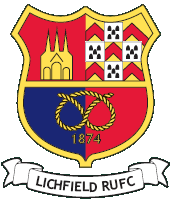 Have you ever thought about how many people visit Lichfield rugby club? During the season over 1,000 people a week see the details of the businesses that choose to advertise on a pitch side board.

Stuart Potter is offering these for the 2017/18 season. Once your board has been made up to renew in future seasons costs a lot less, as your graphics and design are already done.

If this is something you are interested in please speak to Stuart on 07519 668509

You can also get involved by sponsoring a Match day ball; or bringing your customers along for Match day corporate entertainment. If you have a son or daughter who plays at Lichfield, you could also sponsor their age group's playing kit.

Please speak to Stuart as he would be happy to talk to you and I am sure he can find an opportunity to suit all sizes of PR budget.