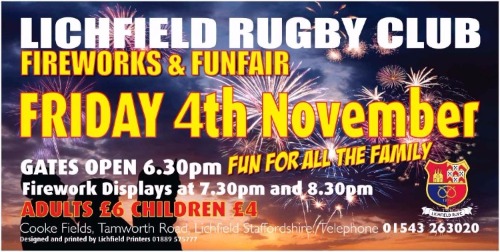 Friday 4 November Lichfield RUFC has its annual bonfire and firework displays. Members and Non-Members welcome.
There will be funfair to keep everyone entertained between the shows; lots of hot food and drinks stalls and the clubhouse will also be open.
Tickets can be purchased on the gate and their is ample parking available.
Please note you may not bring your own alcohol to this event and you may be asked to show the contents of your car or bags on entry. Anyone who appears under the age of 25 will also be asked to show ID in order to buy a drink from the bar.